How to use SUIT for functional MRI analysis
To use the template, a high-resolution T1-weighted scan (for example a 1x1x1mm MPRage) of the individual is needed. Analyzing functional data would then proceed in the following steps:
Normal preprocessing: Slice timing correction and realignment of the functional data to correct for head movement. For instructions under SPM tutorials can be found here.
We usually start with setting the origin of the anatomical scan to the anterior commissure, and then coregister the functional data to this anatomical. We perform all first-level analyses in space, and then reslice the contrast images into SUIT, MNI, space or bring them on a surface-based representation at a later stage.
It's best not to smooth the data at this point, which is best done just before the second-level analysis). This prevents activation from visual cortex bleeding into the anterior lobe.
Run the first-level GLM, which gives you beta-images, or linear combination of beta images (con*.img).
The following steps can be run from the command line as shown below, or using a GUI by running spm_suit. All code requires SPM to be running in order to function.
Isolate the cerebellum and brainstem from the rest of the brain. It is strongly recommended to check the isolation map and handcorrect if necessary.

Run suit_isolate with no inputs to manually select the whole brain anatomical.

suit_isolate('name') is useful for running on multiple participants, inputting each subjects anatomical one at a time.
Hand correction can be performed using Caret (for instructions on how to do this with MRICroN, please see below).

File → Open Data File → c_name → Volume Anatomy file
File → Open Data File → c_name_pcereb_corr → Volume Segmentation file
D/C (right hand toolbar) → Select Segmentation as primary overlay → Apply → Close
Volume → Segmentation → Edit Voxels
You can now selectively switch on/off voxels by changing the Editing mode
When happy, save the corrected mask (File → Save Data File → File Type → Volume Segmentation Files)
Normalize the anatomical to the SUIT template using a nonlinear deformation.
Run suit_normalize to manually select first the cropped cerebellum anatomical (c_name)
then the hand corrected mask (c_name_pcereb_corr)
Run suit_normalize('c_name','mask','name_pcereb_corr') for normalizing multiple participants.
Reslice the functional data (beta- or contrasts-images from the first-level GLM) using the deformation found in the last step. In this step mask out activations from outside the cerebellum or brainstem.
Run suit_reslice to manually select first the images to be resliced, then the deformation map ('mc_namesnc.mat'),then a segmentation mask ('cname_pcereb_corr').
Run suit_reslice('source','mc_name_snc.mat','map','c_name_pcereb_corr') to reslice multiple subjects. 'source' can be a cell array containing multiple images for reslicing.
Take the normalized images (wc*.img), smooth them and submit to a second level GLM.
Coordinates in SUIT space can be assigned to individual lobules using a probabilistic atlas.
Note:
Hand correaction can also be performed in MRICroN (thanks to Dr. Cyril Pernet for sharing this advice):
File → Close images (= make sure you don't create multiple VOI)
Draw → Convert → (NII → VOI) → c_name_pcereb_corr.nii
File → Open Data File → c_name
Draw → Open VOI → c_name_pcereb_corr.voi
Overlay → Transparency on background → adjust to your liking, 50 or 60% is usually ok
Use the drawing tool to edit voxels (pen sto add, shift+pen to remove)
Draw → Save VOI → c_name_pcereb_corr.nii (make sure to change the extension to nifti)
you can check how the mask fits in the whole brain: File → Open Data File → mname followed by Overlay →add →c_name_pcereb_corr.nii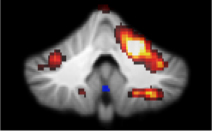 Compared to SPM2 normalization, simple movement vs. rest t-values increase by up to 10% due to the better alignment. Benefits for smaller subareas may be even higher. Results can be displayed on the cerebellar template or a corresponding cerebellar flatmap, using caret. Using the atlas package, activations can also be automatically be summarized using different ROIs.

How to use SUIT for fMRI analysis of the dentate nucleus